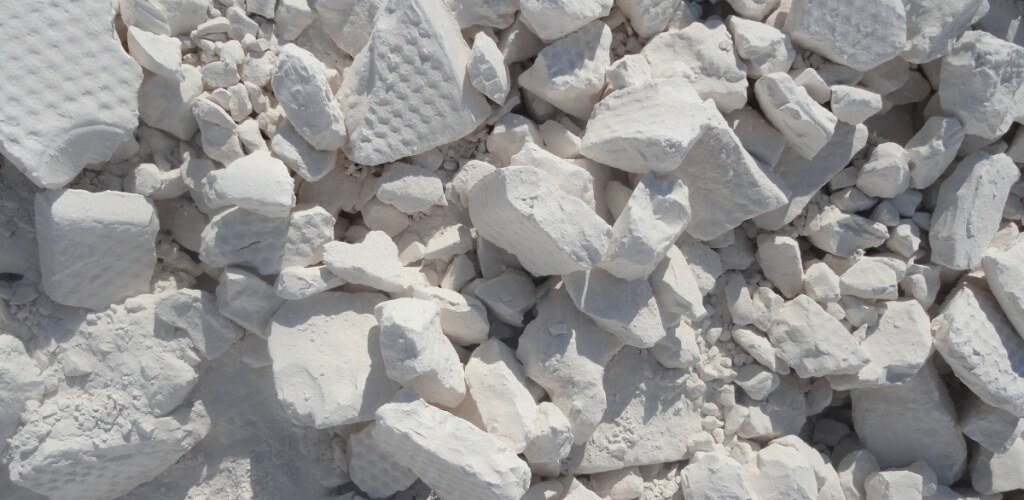 China Clay Powder Suppliers in Rajasthan
China Clay is a hydrated Aluminum silicate, part of the group of industrial minerals, with the creation of Al2Si2O5(OH)4. It is a layered silicate mineral, with one tetrahedral sheet connected through oxygen atoms to one octahedral sheet of alumina octahedra. Rocks that are wealthy in Kaolinite are known as kaolin or china clay.
China Clay Powder Suppliers in Rajasthan has a low shrink-swell capacity and it is a soft, earthy, usually white mineral, produced by the chemical weathering of aluminum silicate minerals like feldspar. In many regions of the world, it is colored pink-orange-red by iron oxide, giving it a separate rust tint. Lighter concentrations yield white, yellow, or light orange colors. Commercial grades of kaolin are provided and moved as a dry powder, semi-dry noodle, or liquid slurry.
The largest use is in the production of paper, including ensuring the gloss on some grades of paper. It is also used in paint, rubber, detergents & textile industries.
China Clay / Kaolin is used (or was used in the past):
In ceramics (it is generally the main component in porcelain)
In toothpaste
As a light diffusing material in white incandescent light bulbs
In cosmetics
As paint to extend titanium dioxide (TiO2) and modify gloss levels
For its semi-reinforcing properties in rubber
In adhesives to modify rheology
In the production of common smoking pipes in Europe and Asia
In organic farming, as a spray applied to crops to deter insect damage, and in the case of apples, to prevent sun scald
As whitewash in traditional stone masonry homes in Nepal (the most common method is to paint the upper part with white kaolin clay and the middle with red clay; the red clay may extend to the bottom, or the bottom may be painted black)
As a filler in Edison Diamond Discs
As an indicator in radiological dating since kaolinite can contain very small traces of uranium and thorium
To soothe an upset stomach, similar to the way parrots (and later, humans) in South America originally used it[18] (more recently, industrially-produced Kaolinite preparations were common for treatment of diarrhea
For facial masks or soap
As adsorbents in water and wastewater treatment
Physical Properties:
Appearance:White fine powder.
Sp. gravity: 2.5 - 2.7
Oil absorption: 25 to 35
PH of 10% aqueous solution: 7 to 8
Water Soluble salts: max 1.0%
Volatile matter: Max. 1.0%
Loss on Ignition:: 13 to 15%
Typical Chemical Analysis :
Al2O3: 36.1%
SiO2: 42.5%
Fe2O3: 0.5%
MgO: 1.0%
Na2O: 0.5%
K2O: 3.0%
Industrial Applications :
China Clay is the heart of several Industries like paper, potteries, tiles, ceramics, glass & paints. 
Paints: It is used in various paints like distempers, cement primer, wood primer, texture paint, spray plaster, putties, fillers & undercoats.
Plastic: It is used as a filler in combination with others to impart strength & smoothness in plastic Industry.
Paper: It is used in variety of papers, cardboards, hard boards and others.
Electrical Industry: It is used for Electrical insulation, High voltage insulation components, electrical wires, EPDN rubber and others.
Cosmetic & Soap: China Clay is used in toothpaste, cosmetic and soap industry.
Our Suggested Grades:
| Grade | Brightness | Particle Size | Top Cut | Oil Absorption | Application |
| --- | --- | --- | --- | --- | --- |
| Kaolin-05 | 84% | 2-5 micron | 20 | 38 | Paints, Paper, Electrical |
| Kaolin-10 | 82% | 10 micron | 40 | 36 | Paints, Paper, Cosmetics, Electrical |
| Kaolin-15 | 82% | 15 micron | 50 | 32 | Paper, Rubber, Soaps |
| Kaolin-20 | 80% | 20 micron | 50 | 32 | Rubber, Cosmetics & Soaps |
Apart from above grades we develop
tailor made Kaolin
to meet the specific requirement of our clients. Our R&D is also working on ultra-fine China Clay powders to develop many new products with exciting possibilities.